SnowDay4Bikes - Postponed to the 7th of Feb
Posted: 16 December 2019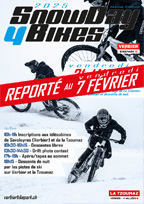 !!! Postponed to February 7th !!! Due to the quantity of snow and warmer temperatures from Thursday, we are forced to postpone the event to February 7. More news beginning of next week ...
What is SnowDay4Bikes ??? simply a free-ride mountain biking after-noon on snow slope, followed by an aperitif, fondue and a final descent by night!
No race here, except against your friends! ;) You'll ride at your pace, with whoever you want, and do as many runs you want ...
!!! BOOKING RECOMMENDED - LIMITED PLACES TO 130 !!!

Registration open until 29 Jan. 12 am
Info, registration and entry list here
---
Enduro winter ride from 11am between Le Châble and Verbier open
Posted: 6 November 2019

The lift between Le Châble and Verbier is open for bikers from 11am.
(week-end only, every days from the 1st of December)

Thanks to respect the followed rules of good practice:
- All enduro and XC trails are located on hiking trails and shared with hikers. Be cautious of hikers on these trails and give them priority.
- Cross villages and inhabited areas at a reduced speed, be alert while crossing roads and respect traffic rules.
- Certain enduro itineraries traverse steep areas and close to cliffs, identify them and be cautious in those exposed areas. Do not hesitate to dismount from the bike if necessary.
- Respect the environment where you ride, stay on the trails, no pirate lines, no cuts between turns.

Thanks to stay on red trails if it's snowy.

The enduro itinéraries map (advanced/expert): Plan_Enduro_Winter.pdf

The "Bike" pass is at CHF 28.- for a day.


| | | |
| --- | --- | --- |
| Conditions (27 of January 2020): | access | trail |
| N°4a | snow | snow |
| N°4b | snow | snow |
| N°5 | snow | snow |
| N°9 | snow | snow |
| N°10 | snow | snow |
---
E-bike festival - 13-16 of August 2020
Posted: 24 December 2020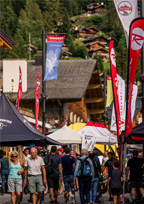 The Verbier E-Bike Festival is a 100% electric event for everybody.

During 4 days between the 13-16th August 2020 visitors of every level will get the opportunity to re-discover the mountains another way: E-Bike tests, Rando gourmande, Discovery tours, Tour du Val de Bagnes.

Learn more on www.verbierebikefestival.com
---
Verbier Bikeschool & Guide
Posted: 12 July 2019
Whether you want to discover the sport or to improve your skills, the VerbierBikepark School provides downhill mountain biking lessons. Half a day with a private coach: everything you need to discover the sport or to become an expert.
Do you need a guide to discover the enduro trails? Whether it is for a half-day or a full-day ride, we will guide you along the most beautiful trails of the region, and even give you tips to improve your riding skills.
More infos and booking here