Enduro contest - points hunting by team - Saturday 25th August 2018
Posted: 7 August 2018
Come to this funy event with your bike mate and take the max of points on the enduro trails in 6h!

Thanks to register on the event page here:
facebook.com/events/checkpointstour/

Event free and nice bike stuff to win!




Schedule
8-9am registration (médran café)
9am café/croissant
9.30am briefing and stuff giving for the hunt
10am opening of the hunt
4-5pm plate/card back at the race office
6pm price giving
6.30-9pm bbq médran café


---
Verbier Bikeschool & Guide
Posted: 29 June 2018
Whether you want to discover the sport or to improve your skills, the VerbierBikepark School provides downhill mountain biking lessons. Half a day with a private coach: everything you need to discover the sport or to become an expert.
Do you need a guide to discover the enduro trails? Whether it is for a half-day or a full-day ride, we will guide you along the most beautiful trails of the region, and even give you tips to improve your riding skills.
More infos and sample of rates here
---
VerbierBikepark Camp Enduro "private"
Posted: 26 June 2018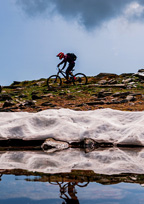 We can organize 2 days of enduro only for you and your friends!

Between 4 and 6 people, from CHF 300.-/pers. (advanced and expert level)
Share with your friends 2 enduro days with a guide on the best trails of the area. We propose you to stay overnight at the Mt-Fort mountain hut at 2'500 m. high and eat a Swiss cheese local meal.
More infos and sample of rates here
---
2018 Bikepark season pass preorder
Posted: 10 April 2018
6 days of ride to recoup the season pass !
The season pass includes vouchers for discounts at the Bikepark school and Bikepark merchandizing.
The pass will be available at the Téléverbier desk as from the first opening weekends in June or later on during the season.
order directly here
---