!!! End of season schedules !!!
Posted: 15 September 2021
WARNING -> last week-end for the tracks at the top of Fontanet.

To celebrate the last opening day of the track at the top 06 Bortabitche and 07 Rôdze, the daypass for Monday 20 September will be at CHF 10.-

Last week-end for the Flowtrail on la Tzoumaz side, the 25 and 26 September.

From the 21 September to the 25 October: open during the week Verbier-Ruinettes / and during the week-end Le Châble - Ruinettes.


---
E-bike festival - 12-15 of August 2021
Posted: 2 August 2021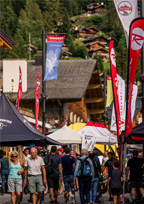 The Verbier E-Bike Festival is a 100% electric event for everybody.

The Verbier E-bike Festival will take place for the 3rd time this summer in Val de Bagnes ! 4 days dedicated to e-biking! With 5 different activities on offer: E-bike test, Rando Gourmande, Discovery Trails, Défi du Val de Bagnes or Bosch E-MTB Challenge.

Learn more on www.verbierebikefestival.com
---
Verbier Bike School & Guide, open from June !
Posted: 1 July 2021
Whether you want to discover the sport or to improve your skills, the VerbierBikepark School provides downhill mountain biking lessons. Half a day with a private coach: everything you need to discover the sport or to become an expert.
Do you need a guide to discover the enduro trails? Whether it is for a half-day or a full-day ride, we will guide you along the most beautiful trails of the region, and even give you tips to improve your riding skills.
More infos and booking here
---
FOX Hit the Park - Saturday 10th July 2021
Posted: 3 August 2020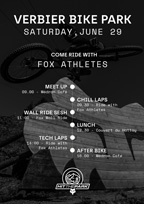 This next Saturday 10th, open to all and free, spend a day of riding with PROS from FOX, like the Lacondeguy brothers, Pierre Edouard Ferry, Laurie Greenland and more...

Photo shoot, free beer and a bbq organized at the end of the day!

Program:
9.30am: Meeting at Médran Café
10.30am: Photo on the track n°2 Tsopu
12pm: back and lunch at Médran Café
1.30pm: Photo on the track n°7 Rôdze
3pm: Photo on the track n°4 Wouaiy
4.30pm: Free drink at Backside Shop
From 5pm: Photos delivery and bbq "PicRoyal" (CHF 15.-) at Médran Café


---
Buildings and trailworks
Posted: 23 June 2021
Construction sites / deviations :

For safety reasons, it is very important to respect the signs. Several sections of tracks will be temporarily closed during the season. Thanks for your understanding.
---