2021 Bike season pass preorder -20%, until the 31st of May!
Posted: 20 April 2021

5 days of ride to recoup the season pass !

The pass will be available at the Téléverbier desk as from the opening the 19th June or later on during the season.

Novelties include in the pass: 4 Vallées access and Bruson lift!

order directly here





---
E-bike festival - 12-15 of August 2021
Posted: 15 March 2021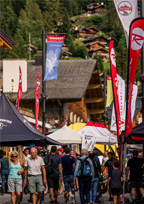 The Verbier E-Bike Festival is a 100% electric event for everybody.

The Verbier E-bike Festival will take place for the 3rd time this summer in Val de Bagnes ! 4 days dedicated to e-biking! With 5 different activities on offer: E-bike test, Rando Gourmande, Discovery Trails, Défi du Val de Bagnes or Bosch E-MTB Challenge.

Learn more on www.verbierebikefestival.com
---
Verbier Bike School & Guide, open from June !
Posted: 15 March 2021
Whether you want to discover the sport or to improve your skills, the VerbierBikepark School provides downhill mountain biking lessons. Half a day with a private coach: everything you need to discover the sport or to become an expert.
Do you need a guide to discover the enduro trails? Whether it is for a half-day or a full-day ride, we will guide you along the most beautiful trails of the region, and even give you tips to improve your riding skills.
More infos and booking here