Warning! From 4th of September, the track 01 will be close for preparation for the DH cup. Thanks

---------------------

Important information about the paddock area

NO PADDOCK IN VERBIER - Due to the lack of free space in Verbier, the paddocks will be in the car park in Le Châble as it was durin gthe last race. The Châble-Verbier gondola are in "public transport" and open from 5:30 a.m. to 11:50 p.m.

Racer's area/Paddock/Spectator (parking in Châble)
Téléverbier - Gondola station
chemin de la Gare 5, 1934 Le Châble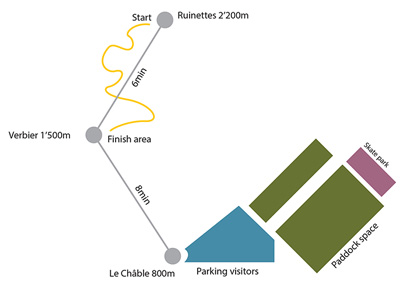 The gondola ride between Le Châble and the start takes about 15 minutes.
In the event of a small mechanical problem during the training sessions, basic tools will be at your disposal in the finish area in Verbier.

Several hotels in Verbier offer special deals for an accommodation closer to the race area. The list is available here: Accomodations.

Please also remember that the race track will be closed 2 weeks before the race for the preparation.

See you soon in Verbier!
--
The downhill races are organizied on the famous track "Tire's Fire, one of the most technical and physical track in Switzerland.

Swiss DH Champs 2015 :