Opening Saturday 10th and Sunday 11th of June !!!
Posted: 31 May 2023
Is the time to ride !

Opening of all the tracks under Ruinettes !

We will still be closed during the week, but open 7/7 since June 17th and until October 22th!

Be careful, still presence of snow patches on the blue!

Complete schedules here: verbierbikepark.ch/horaires



---
Muc-Off - New partner
Posted: 8 May 2023

Muc-Off becomes an official partner of the Verbier Bikepark !
We are happy to welcome the famous brand of lubricants and maintenance products to our destination, well known by its "neon pink" color code. With a big presence on the DH Racing scene and partner of the famous team "Commencal-MucOff", it is under a common passion for mountain biking that this partnership was created. Considerable efforts to make their products as close to the environment as possible, without loss of efficiency, that's a great vision! We're looking forward to welcome Muc-Off this summer during events or simply to take care of your rides !

" Founded 1994 in England, Muc-Off has conquered the bicycle workshops around the world. The lubricants and bike-care products of the brand are characterized by high performance. This is because the products are developed with cycling professionals and prove themselves in competition. In addition, Muc-Off focuses very consistently on environmental compatibility: almost all Muc-Off products are solvent-free and biodegradable. And last but not least, Muc-Off stands out because the packaging combines a shrewd playfulness with a high degree of user-friendliness. Never before has it been so much fun to care for your bike and protect the environment ! "



---
Europe MTB DH Cup IXS Final round - 15-17 September 2023
Posted: 4 May 2023
A big return for Verbier on the organization of the final of the European downhill mountain bike cup !

From September 15 to 17th, come support the elite of European downhill racing. The race will take place on the Tire's Fire track between Ruinettes and Verbier, a track famous for being one of the most demanding in Switzerland, both physically and technically, a spectacle that will be captivating.

All infos "riders" and "spectators" can be found here:
---
2023 Bike season pass preorder -20%
Posted: 01 April 2023
5 days of ride to recoup the season pass !

Presales from the 1st April to the 31st May

The pass will be available at the Téléverbier desk as from the opening the 3rd June or later on during the season.

Novelties include in the pass: 4 Vallées access and Bruson lifts!

order directly here





---
E-bike festival - 10-13 of August 2023
Posted: 31 March 2023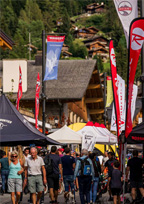 The Verbier E-Bike Festival is a 100% electric event for everybody.

The Verbier E-bike Festival will take place for the 5th time this summer in Val de Bagnes ! 4 days dedicated to e-biking! With 5 different activities on offer: E-bike test, Rando Gourmande, Discovery Trails, Défi du Val de Bagnes or Bosch E-MTB Challenge.

Registration open -> www.verbierebikefestival.com
Early-Bird Offer: 30% discount for all registrations before April 16th at midnight.



---
New flowtrail in la Chaux
Posted: 6 July 2022
Jump into a discovery tour of the new green line!



---
Verbier Bike School & Guide, open from June !
Posted: 3 May 2022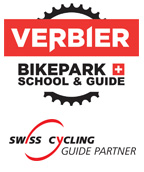 Whether you want to discover the sport or to improve your skills, the VerbierBikepark School provides downhill mountain biking lessons. Half a day with a private coach: everything you need to discover the sport or to become an expert.
Do you need a guide to discover the enduro trails? Whether it is for a half-day or a full-day ride, we will guide you along the most beautiful trails of the region, and even give you tips to improve your riding skills.
More infos and booking here